Are you looking to wow your audience with the best live performance? Do you want the best instrument to make your on-stage presence entertaining and unforgettable? If you're looking to be a musical star, then acoustic-electric guitars are perfect for your next live gig.
There are several different types of acoustic-electric guitars to choose from, with many defining and contrasting features. Choosing the right guitar for yourself from an overwhelming collection can be difficult. Especially for beginners who have no clue what to look for. This guide will help you analyze reviews, choices and guitar-buying needs. Thus you can get the best acoustic-electric guitars under $1000 without any worries.
Here's a list of the best cheap acoustic-electric guitars available in the market.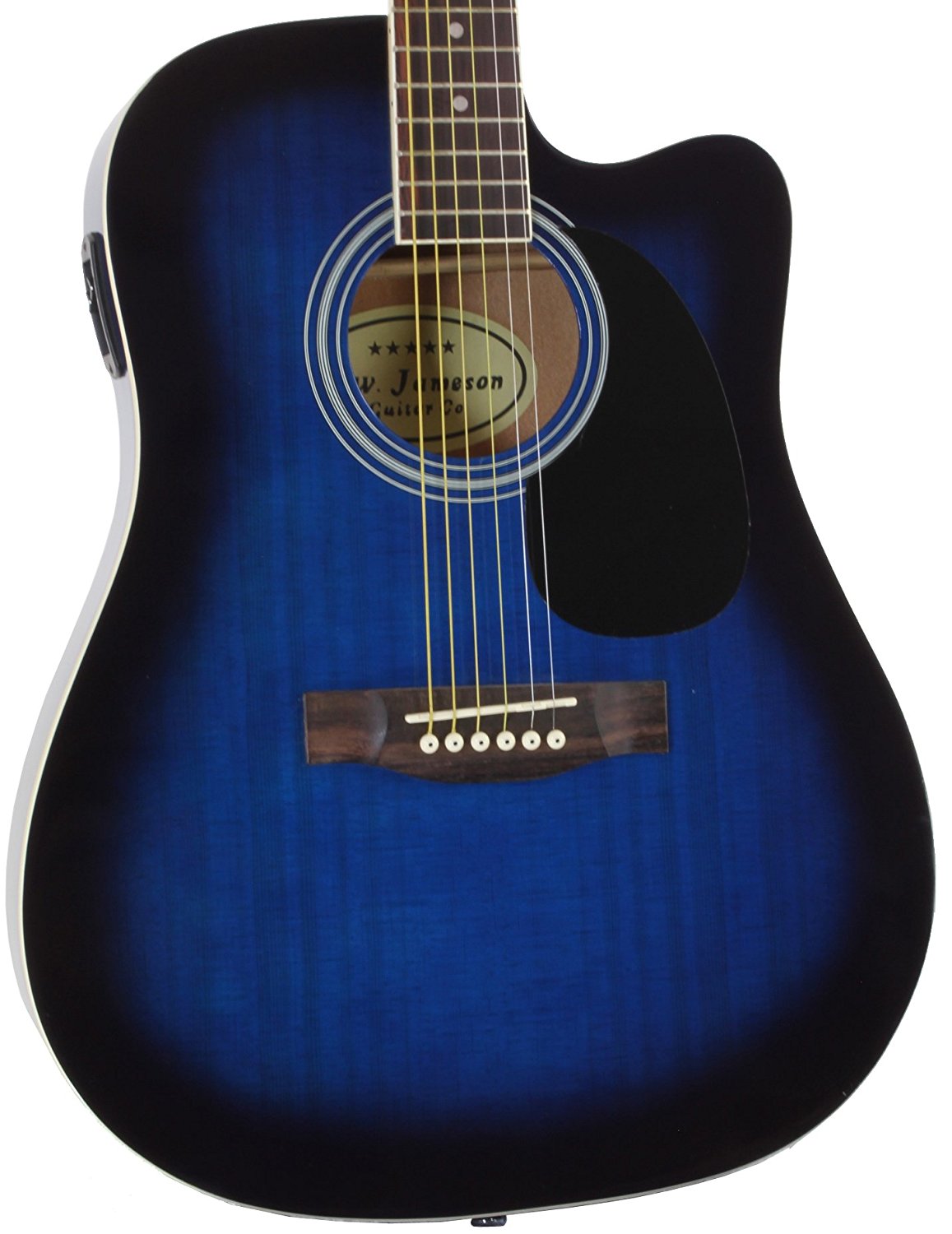 FEATURES

3 Inch Body Thickness

Built-in Pickup

Gig Bag Case Included
FEATURES

A Venetian-cutaway body

Solid spruce top

Mahogany back and sides
​Kona Acoustic-Electric Dreadnought Cutaway
FEATURES

​Transparent blue finish

Mahogany top, back, and sides

25.75" Scale and 20 Frets
Best Cheap Acoustic-Electric Guitars Review
This Jameson Guitar is one of the best acoustic-electric guitars for beginners. With an overwhelming price of only $100, it gives you all the essential features, durability and sound quality. With nato sides and back, along with a maple neck, spruce top, and rosewood fingerboard, this guitar boasts a beautiful wooden blue-to-black finish with 20 frets and white dot inlays.
For a cheap guitar, this one dabbles in mid-range treble frequencies and a solid base to give a solid sonic image, all while avoiding the issues of other cheap guitars like poor tuning and intonation. Its mid-slim neck and classic headstock give it an aesthetic look that will please any beginner.
Coming with a built-in EQ, onboard stock pickup and various audio settings along with the basic six-string arrangement. The Jameson Acoustic Electric guitar gives you exactly what you paid for. It also uses six die-cast tuners in sets of three around the headstock that make tuning a breeze for beginners. To make the package even better, this guitar comes with a free gig bag and a set of guitar picks. If you are looking for a beginner guitar at the best value, then the Jameson Full-Size Thinline Acoustic-Electric Guitar is the way to go.
Pros
Affordable
Full-sized
Built-in EQ and stock pickup
High-gloss dark blue finish
Extra freebies included
Cons
Some quality control issues
One of the best acoustic-electric guitars under $500 is the Fender CD60CE. It gives a solid foundation for beginners to work with, making it one of the most popular beginner acoustic guitars out there. The Fender CD-60SCE has a standard dreadnought body with laminated mahogany all around.
While lamination is not the best quality of any guitar, it is what makes this one so affordable. The guitar includes a scalloped X-bracing and a well-made body that minimize the overall effects of the lamination successfully. Its neck is mahogany piece featuring a stylish rosewood fretboard and saddle. Fender included the Fishman Isys III, a system with a great onboard active preamp, tuner and three-band EQ, all of which work to give a decent tone.
Fender also added a set of die-cast tuning machines to use the guitar comfortably. With tuning and intonation guaranteed, the CD60SCE guarantees performance even with the few cons it possesses. Compared to its competitors, the Fender CD-60SCEdelivers tone, warmth, and projection that is exactly what any beginner needs. The bundle comes with a hard case, tuner, strap, strings, picks, Austin Bazaar Instructional DVD, and polishing cloth.
Pros
Affordable
Fishman pickup system
Scalloped X bracing
Hard case included
Multiple finishes
The Kona K2TBL Acoustic-Electric Guitar is part of the new K2 series that comes as one of the best acoustic-electric guitars under $300. It has a noticeably shiny and translucent finish of transparent blue that goes well with the mahogany back, which makes it eye-catching. It also features a full-size dreadnought cutaway, with the stylish undercut design of an electric.
Kona has created the perfect hybrid guitar, with the K2 having a git only 3 inches deep, it is more comfortable to hold. The K2 includes amazing features like a 3-Band (EQ-505), an active Piezo Pickup System, enclosed gold die-cast tuners, and two gold-strap pins, all of which exude elegance.
Its body binding comprises of four-ply and embraces single-ply headstock. Moreover, the neck binding gives the guitar its renowned durability. As for sound, the K2 gives classic acoustic tones. Not only is it great for beginners, but the high-quality features make it ideal even an intermediate and pro git player. However, the K2 comes with some reported drawbacks like bowed necks, scratches, and rough frets. That said, the Kona K2TBL's pros outweigh the cons by a landslide.
Pros
Affordable
4-ply body binding
Piezo Pick-up
Gold die-cast tuners
D'Addario strings
The Yamaha APXT2 is one of the best acoustic guitars for small hands. It maintains a firm steel-string stylish design, slim feel, and quality of any Yamaha classic, with the added benefit of a low price tag of only $200. The APXT2 has a single-cutaway thin-line body with a 3/4 scale, laminated spruce top oval sound hole. Its dark wood meranti back and sides make the guitar more cost-effective than other mahogany bundles.
This model is available in not only the sharp grain-showing natural look but also in glossy black and sunburst finishes. The nato neck embrace an easy to get rosewood fretboard with dot inlays and twenty-one frets. The small size of this guitar is ideal for novices, kids, and grownups having smaller hands. Moreover, the APXT2 comes with an ART-based preamp with a simple control panel perfect for beginners, a master volume and tone control knob, a built-in digital tuner and a System 68 contact pickup.
It also features a set of covered tuners on the headstock, a rosewood bridge, and a plastic saddle, and comes with a padded gig bag. It may not give much projection or tone, but the APXT2 provides volume, playability, style, and sound.
Pros
Affordable
3/4 size
ART-based preamp
System 68 pickup
Gig bag included
Classical acoustic guitars require a level of mastery all unto their own. The Cordoba C5 is one of the rare you can own in the affordable range of under $500. It is definitely a great recommendation for amateurs and beginners. The Cordoba C5 hits the nail on the head is wood build selection and quality.
It has a solid top made of Canadian cedar along with beautifully laminated mahogany back and sides. The bracing and finish are all near perfect The C5 is one of those guitars that can give you the feel of a high-quality expensive model at the most affordable price of only $350. It's mahogany neckpiece features a full-sized classical scale.
That gives the guitar a surreal sound all while maintaining a lighter weight. The rosewood bridge gives a solid and sufficient tone to get the job done, while the saddle is made from an artificial material that does hinder performance in any way all while bringing the overall cost down. The Cordoba C5-CE's tuning and intonation are amazing even though it comprises of normal die-cast tuning machines.
The guitar's nylon strings will amplify design and craftsmanship a lot more than most other guitars' steel strings since it becomes easier to tell chord arrangements and tunings. The guitar also holds its ground by delivering a classy warm tone and feel of a great classical guitar. The lower end of the sound spectrum gives a beautiful sound, while the trebles provide a sharp fulfilling edge.
Choosing a classical guitar as your first is usually not a recommended move advised by most guitar experts, so it all comes down to your personal preference. For a classical approach, the Cordoba C5 is your go-to for an affordable acoustic-electric guitar that" test your skills on stage and in practice. With everything said, Cordoba stands against its competitors in terms of quality an affordability.
Pros
Affordable
Great playability
Fishman preamp
Easy and accurate tuning
Smaller neck for better feel
Beautiful design
Cons
No soundhole mic
Average tuner
Thin sound if not plugged an into an amp
​
Overall Thoughts about Acoustic-Electric Guitars
Music is universally adored across the world, and you would like to share your talents and musical prowess with the best money can buy. Whether you are just starting out, or you are looking to go back to the basics. It is clear that acoustic-electric guitars would aid enhance your live on-stage performances, and give you an easy instrumental practice session to develop your skills to the max. With that said, here is our final evaluation of the best acoustic-electric guitars:
Cheapest guitar
Best valued guitar
Runner-up guitar
There you have it, folks. Not only is the Jameson Full-Size Thinline Acoustic-Electric Guitar the most affordable guitar on the list. But in terms of features, quality and style, this beautiful instrument beat the rest by a mile shot! It's easy-to-use features and structure allow the guitar to be the best one for any amateur looking for a great start-up with guitar basics. All without breaking their wallet in the process. This list is based on personal opinion. However, so feel free to research, review and test out all the other instruments, and follow our buyer's guide. You should be able to find the perfect acoustic electric guitar for you!
Acoustic Guitar Buyer's Guide
Choosing a new acoustic guitar isn't really rocket science. In fact, it can be pretty exciting! The first step is easy: think about what you need the guitar for. Depending on whether it's for jamming, recording, or collecting, you can easily narrow down to the type of guitar you should buy:
Acoustic or Acoustic-electric?
Choosing an acoustic or acoustic-electric guitar is a vital decision. The only real difference between the two is that: an acoustic-electric guitar contains an electronic pickup system. Which allows you to plug into an amplifier or PA system so you can amplify your acoustic sound. This makes the guitar very useful. Many guitarists love plugging their instruments into audio interfaces for recordings.
What to Look for in the Right Guitar?
Also Read: 10 Best Hello Kitty Karaoke Machines