Software piano is more than just a passing fad and something you should totally be considering if you can't afford to get a real piano for now. An actual piano that offers, even if it's just the basics, can cost a pretty penny, hence, the introduction of the virtual piano.
This software has the advantage of being a lot more affordable than pianos with hardware. Also, it does not need room space. And most can even be hosted on a DAW, even though they are generally standalone.
You're probably thinking that even the best sounding piano VST cannot hold a candle to good actual keyboard. Well, probably. The truth is that it depends on the kind of best piano VST you get. There are realistic piano VST which when paired with an 88-key MIDI controller keyboard sound even better than a number of actual pianos that we see around. You just have to know where to look.
Best Piano VST Plugins Comparisons (2019)
Garritan Abbey Road StudioPremium Choice
FEATURESThe magnificent Yamaha CFX
Concert Grand Piano
CFX Concert Grand features
Synthogy Ivory IIBest of 2019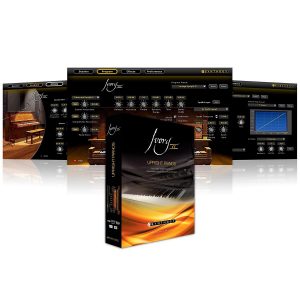 FEATURES Virtual Upright Piano Plug-in
Standalone
Plug-in - Mac/PC AAX
Spectrasonics KeyscapeGreat Value
FEATURESLA Custom C7 Grand Piano Wing
Electric Piano Wurlitzer 140B
Wurlitzer 200A Electric Grand CP-70
You're probably on to the best piano sample in the market. Guys, this is a total game-changer. This VST is as real as they could ever come.
The samples contained in this software were developed from one of the best pianos around: the Yamaha CFX Concert Grand Piano.
Using only the best microphones, the engineers who created this software recorded the world-famous Yamaha CFX specially for all musicians in need of quality best piano VST instruments.
And check out its perspectives, all three of them. They are all discrete and add to the realness of the sound that this software produces.
This is easily our best virtual piano on today's reviews for obvious reasons. And even though, it's a tad high-end, we tell you, this is an investment you'd thank us for.
To get this VST to give you its absolute best, just pair it with a fantastic 88-key MIDI keyboard. Now, sit back and enjoy amazing piano tracks for any of your songs.
Also, don't forget to try the mic perspective on an SSD and then tell us how you like it.
If you want the best piano virtual instrument, then you should seriously consider this one.
Why We Like It:
We love how Spectrasonics gives us limitless possibilities with this product. It might be somewhat pricey but this is a very useful VST that easily proves its worth. The sound quality is through-the-roof, the filter and effects are standard. In all, this VST is a very professional piece of software.
Spectrasonics' Omnisphere has enjoyed a celebrated existence for a plug–in synthesizer. The last major update (1.5) arrived four years ago and was free to existing users.
With its hundreds of new sounds, remote-controlled 'Orb' function and more, I doubt anyone would have felt let down if that marked the winding up of development.
The original Omnisphere took the 'samples and synthesis' approach to sound creation dating back to 1987's Roland D-50 and reinvented it for the 21st century.
with its huge audio soundbank, exciting new sound-shaping systems, easy browser and powerful virtual analogue architecture, it was a sound designer's dream come true in 2008 – and, indeed, still is.
You can now use your own audio file as a soundsource in Omnisphere 2, by simply dragging onto the interface! Go wild with using the new Granular Synthesis, Harmonia, Innerspace and many other creative tools inside Omnisphere!
Classic Waveforms are mostly based on raw hardware synth waves, and their wavetables are pretty straightforward, typically morphing between sawtooth and square or triangle shapes, much like the waves in the original Omnisphere.
Why We Like It:
We love how Spectrasonics gives us limitless possibilities with this product. It might be somewhat pricey but this is a very useful VST that easily proves its worth. The sound quality is through-the-roof, the filter and effects are standard. In all, this VST is a very professional piece of software.
Yeah, it's Garritan again, so you know what it is – amazing software that absolutely works! Like the name of the VST suggests, this is an orchestra VST. That is to say that if you're looking to create opera-like music, then this is the guy for you. All the sounds that you should expect from an orchestra are easily found in this software. From low octave rumblings, to slivery choirs, to wild overlays, to harps, to chord clusters, and much more; you'll find all that you seek right here.
In fact, it even comes with the ARIA instrument player. So, you're sorta getting two great products for the price of one upon purchasing this VST. Is this a value product or not?
Not all of us can just wake up in the morning and work with an orchestra in a snap just because we want to. However, this VST presents a far better and easier way.
You won't even have to do so much because most of the hard work has already been done for you. The developers have created this software such that all the complex mixing that we expect from an orchestra have already been done.
And if you're looking for an orchestral effect, maybe something like what you hear from the movies, it's also contained in this VST. It is a standalone program, but then, if you need to host it on another platform, this VST is compatible with most.
Why We Like It:
Orchestra is hard to create even when working with synths. This is a product that splits the job neatly by half. Of course we love it! If you're looking for an effective cheat to boycott sessions upon sessions of live recording for orchestra and still sound awesome, you need this VST..
XLN developed this VST with the fun creatives at heart. It is well supplied with tons of features and effects that you can easily experiment with to create your best sound yet. From diverse incredible sounds to astonishing effects, the XLN Addictive Keys can be your new best buddy.
The best piano VST plugins in this software are terrific and you're going to love working with them. Some of them include the EQ filters, distortion, chorus, tremolo, and lots more.
>XLN sure did put its foot in this one as it went only for the crème of the crop to develop this software. Only after testing selected top quality pianos (ten of them) did the engineers settle for the one of the very best in quality. XLN is not here to play.
One another advantage that we spotted is the MyCloud Technology it comes with. This feature makes it possible for you to connect to and work with your VST from anywhere at all. What happens is that it synchronizes all your work automatically, irrespective of your device of choice.
Now, with this feature, it doesn't matter whether you change devices or what device you decide to use per time, your work will always be safe, easily accessible and well organized.
Why We Like It:
If you're a frequent traveler there's no way you aren't psyched about the MyCloud. Now, you can rest easy while you travel around collaborating with different musicians, knowing that all your work has been automatically synced. This is no doubt the VST of choice for those of you constantly on the road but have to keep working.
One best piano VST that is very popular among users is the Synthology Ivory II Grand Virtual Instrument. Perhaps, its most endearing feature for users is its expansive sound library. This VST sure comes with a staggering number of sounds, to the tune of 28GB. That is, you have access to 28GB of sound samples which you can choose from. If you haven't figured, then let us be the first to tell you that there's hardly anything you can't do with this VST.
Its Sample Interpolation Technology is another amazing feature that the VST offers. It allows you to be able to create various velocity layers which can be as many as 18 different velocity levels. And similar to this Sample Interpolation Technology, there's the Harmonic Resonance Model which helps to produce sympathetic string resonance that's realistic.
We can say that the Synthogy Ivory II offers one of the best piano VST acoustic sounds we have seen. Its manufacturers designed its DSP engine and 32-bit sample playback in such a way that it closely imitates an acoustic piano.
There are also samples from the grand concert piano, which increases your options as well. These grand concert piano samples were from a piano that's made in Italy. In fact, it is presently considered one of the best pianos in the world.
Why We Like It:
The Ivory II is very versatile and it can produce literally any kind of sound you want, whether it's pop or jazz, or even funk.
So, here's another VST with a wealth of samples. Synthogy literally created a colossal library and packed it full with sounds for the user. And it's not just any kind of sound, a lot of effort was made to ensure that the samples are only selected from the best pianos.
Oh, we haven't mentioned the size. Does 84GB impress you? Of course it does? This VST does 84GB on the sound library (this library affords as many as 16 different velocity layers). Now, you can have access to a variety of powerful and mind-blowing tones to make work fun.
Just like the Ivory II Italian Grand that we just reviewed, this also comes with the same DSP engine and Harmonic Resonance Modeling. However, here, the sounds are both improved and new.
The pianos from which the sounds were sampled include the Hume Vintage Upright, the Yamaha u5 Modern Upright, and the Barroom Upright. These pianos were especially chosen because of the beautiful vintage sound they give.
So, naturally, musicians who favor jazz, vintage blues, and even rock vibes gravitate towards this particular VST.
Why We Like It:
We like this software because of its near universality. Almost every genre of music finds something fitting from it.
As usual with Synthogy, the sound library of this VST is literally explosive. With a large collection of samples available to the user, one can easily create new tones that sound original and fantastic.
One important factor that most piano manufacturers go for when making a piano is Sympathetic String Resonance. Any pianist worth his salt understands how important this feature is and will almost always seek it out in any piano. This VST features Sympathetic String Resonance, further confirming its high quality.
In fact the sympathetic strings here aren't just those created by ordinary sine waves, they are a lot better. Using an all-new custom-made engine, the sympathetiic strings you get from this VST end up being more complex. This ultimately impacts positively on the overall sound quality of the software. And Synthogy can do this because it has dedicated years and resources into making synthetic pianos that sound as lovely as actual pianos.
The software can be easily used by anyone, beginner or pro. That, for us, is another score for the Ivory II Grand Piano.
Why We Like It:
It's our best software from Synthogy on this review. Musicians looking to use a grand piano effect in their arrangements, would love this software.
The Spectrasonics Keyscape Virtual Keyboard Collection has tons of sound samples, and these samples were made from the LA Custom C7 Grand Piano as well as other excellent pianos like it. So whatever your song composition style, you have a lot of samples for the creation of awesome tones. From contemporary songs to retro, let this VST empower you in the creation of amazing sounds that you'd love.
One thing about this VST though… it does tend to clog up the CPU of a PC quite a bit. However, that's a small price to pay for such amazing tones, isn't it? In fact, we can assure you that it is.
If you're still a bit doubtful, you can decide to use this with the Omni 2 that we reviewed earlier. But then the truth is you'd hardly have to. This VST does really well on its own.
Like we mentioned in the beginning, it comes with more sounds than you'd know what to do with.
Why We Like It:
This VST affords the individual a lot of choices as to how they create their own tones. This is thanks to the huge library of sound samples made available with this software. It is also very easy to use both by beginners and experts.
Frequently Asked Questions (FAQs) about Piano VST
Other People's Opinion about Piano VST
The Garritan Instant Orchestra Piano Virtual Studio Technology is one of the popular choices among all the VSTs on review today. Different reasons make this so. One, it is one of the most affordable we have reviewed today, considering what it does. Creating orchestra is hard work and expensive too, but still it remains in high demand in the modern entertainment industry. The Garritan Instant Orchestra is the most economical way to go and most people are taking it.
Musicians who love to experiment are huge fans of the Spectrasonics Omnisphere. There are so many features to keep the creative musician happy and busy. The number of samples is staggering! Frequent travelers and those who fancy a more sophisticated VST will also love this software. The automatic sync of workload is a nice touch that individuals such as these naturally gravitate towards.
The pros though, all of them seem united on this one thing that the Abbey Road Studios CFX Concert Vst is the best MIDI piano software. This sample VST is the most realistic sounding VST on our reviews today and its source Keyboard is the legendary Yamaha CFX Concert Grand piano as recorded at the Abbey Road Studios.
Our Top Pick of Best Piano VST
Our top pick is quite obvious. The Garritan Abbey Road Studios CFX Concert Grand Best Piano VST is easily the best piano software for MIDI keyboard, maybe even the best in the world. Just be sure to give this VST what it deserves by way of a MIDI controller and hook it up with something that comes with 88 keys. Anything less would be an aberration.
The samples of this VST were carefully recorded by talented engineers from the Yamaha CFX Concert Grand Piano. If this doesn't easily make it our best virtual piano today, we don't know what else will.
One other reason we are so confident that this is the best MIDI piano software is the fact that it is from Abbey Road Studio One. And if Studio One had anything to do with any VST, then you can be sure that it would easily top any review as the best piano virtual instrument.
Read post: