Digitalization has made music to be now streamed and saved in our storage devices. However, some of us want to go back to the vinyl days when music was still scarce to land on. Reverting to the old piece in a bid to revive the beauty of sound is a ritual that we need to pass to our children if you don't want it to be forgotten, hence the portable record player.
Back then, what it involved was sliding the album out of its sleeve, placing the disc gently on the platter, lower the tonearm and as the little thumping sound pops up, the needle is already in the groove. The rest is a thrilling experience that technology has tried to manipulate to bring it back.
Today, there are measures to make the playing record available in your home, using what we currently use in electronics but with the old way of doing things. Advancement has gone ahead to avail the portable record player that has more features to include vinyl to digital conversion, and it can be moved from point A to B with the deployed mechanism. Here we are going to review the five best portable record players that you can consider as you advance to sophisticated ones.
Best Portable Record Players Comparison Table
Victrola Vintage Suitcase Turntable
FEATURESCompact and comfortable to carry
Vintage design
Bluetooth enabled
Crosley Cruiser Deluxe Suitcase Turntable
FEATURES Multiple colors to choose from
3-speed settings available
Compact and light while carrying
GOODNEW Vinyl Record Player Turntable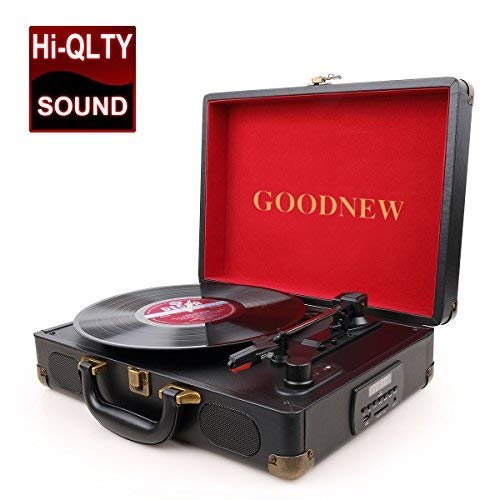 FEATURESNice suitcase cover
Three-speed RPM variations
Auxiliary options included
Best Portable Record Player Product Reviews
Victrola brand has been around for quite a long time, working on the most successful record players that the old folks still own today. Here, they have a more recent victrola portable record player model to imitate the former, the Victrola Vintage Suitcase Turntable who's feeling to touch and music output bring back memories if you saw one as you grew up.
The body comprises of a compact suitcase whose measurements and weight increase the portability aspect by being small and light. One of the sides is equipped with a carrying handle for comfortable carrying. When you touch it, the feeling is that of a vintage record player that will bring the memories as you listen to that old rock or country vinyl record.
Playing involves some options. First, there are three variable speeds for the vinyl which include 331/3, 45, and 78 RPM (Rotations per Minute). The sizes include 7, 10 and 12 inches which mean it allows a wide variety so that you don't miss out.
Another mode involves the wireless connection which will enable you to connect to your headset via Bluetooth. If you want to use the phone or tablet, then there are no cords needed. There is an option for the 3.5mm auxiliary jack if your device is not Bluetooth enabled.
Some customers say that the victrola portable suitcase record player with Bluetooth is not loud enough. If you need to connect it to an external stereo system, there is also an option to connect the RCA output. For those who feel that the speakers are somehow compromised, you have a solution to amplify the sound.
Speaking of the external speakers, they are on both ends of the carrying handle, and the output is not bad at all for those who like it quiet with small sounds coming from the corner. Most customers have no problem with it so it should be okay for normal range sounds. If you need to control the sound, you have a volume control knob to guide it through, and it includes the on and off modes. Powering up consists of a power adaptor that requires to plug into a power outlet. There is no option for the batteries though.
If you are asking where to get the replacement needles among other items, you can always check them on Amazon or the manufacturer's site.
Pros
Includes three-speed settings to play three different vinyl sizes
Compact and comfortable to carry
Vintage design and feel on the dust-proof case
Bluetooth enabled including compatible output options
Cons
The built-in speakers can have a low volume depending on how you like it which may require other external speakers.
Crosley is another brand you need to check out if you need a portable record player that you can move around and still listen to vinyl records among other streaming options. The Crosley Cruiser Suitcase Turntable includes the recent advancements to play music in every other invented form.
With a casing that includes a carrying handle, you have another chance here to carry your record player to the desired location. The body comprises of wood, made compact by the attaching leatherette material which makes it sturdy and movable in one piece. The covering has eight colors to choose from, and you will love how light it is to carry around at around 5.5 pounds.
Most record players involve the three-speed variations, 331/3, 45, and 78 RPM and this one is no exception.
More added functionalities include the 45 RPM adapter. You have a chance to play via a Bluetooth connection which connects to your music source and not the available outputs as some customers have tried and asked. If you want to utilize the external speakers among other choices, there is an RCA output near the power adapter connector. There is also a headphone jack that is standard for the non-Bluetooth devices.
The sound in this Crosley portable record player is incredible to the point that if you need further amplification, that's to your liking. The range fills the room, and you have a rich reproduction coming from the evolved portable vinyl player. You can adjust the output via the pitch control knob depending on how loud you want it.
Overall, it is a portable record player that will introduce to the former world with the compatible options that allow you to play modern music from modern sources.
Pros
Multiple colors to choose from
3-speed settings available
Compact and light while carrying
Excellent sound output
Cons
Some users have complained of this player not lasting for more than a year. Make sure you have one with a warranty to allow for replacement when it happens
Next one on the list is the GOODNEW brand that has not been around for quite long compared to the brands reviewed above, but since their first creation, they have never looked back – something that has received a lot of positive reviews from the customers. Most of their portable record players are in America and Europe where the quality has attracted most of the vinyl lovers.
It is compact just like the rest above, and weighing at an average weight of 4.5 pounds, you can easily carry it after closing the suitcase holding it. It comes in black with a compatible charging cable for the wall plugin before play.
Like the rest, it includes three speeds, 331/3, 45 and 78 RPM variations which imply it will make use of the 7, 10 and 12-inch vinyl records. Since it comes portable and automated, you can utilize the auto stop on/off switch inside the turntable. After the record finishes, the switch turns the system off automatically. That's cool!
The inputs and outputs include the standard aux jack, RCA and lineouts. You also have a chance like the above record portable record players to stream using Bluetooth connection if you don't want to use the wires.
The best feature in this turntable is the drive system. The direct drive system uses more torque than the belt drive system which makes the plate to scratch resistant as it moves along the stylus needle. Since the belt-drive is designed to reduce the motor vibrations, you get quality sound just like what our grandparents enjoyed. It also allows you to backspin just like the DJ. This is another cool thing about it.
The sound output uses 1W RMS dual stereo speakers' built-in but protruding on the outer case. They produce just the right output whether you are playing music from your devices, vinyl record or the FM radio that you can switch the system to in case you have nothing to play at the moment.
Pros
Nice suitcase cover
Three-speed RPM variations
Includes an auto stop on/off switch
Auxiliary options included
Has an FM radio option
Cons
Some customers say it feels quite heavier when carrying
If you are still looking for something vintage whose appearance takes you back in the day despite the modernization, here is a portable record player that will revive the vinyl and let you have the relaxing mode that you are looking for.
If your parents want a player that will take the current specifications while not replacing what they were used to, Wockoder Vintage Style Vinyl Record Player is just the right device for them.
The body has the old wood look with all the controls and peripherals placed in their right positions. At the top is a transparent dust cover that has all the included space to let you play the record even when the lid is closed. While it sits in your house, what you see is an elegant vintage portable record player with everything you need to play your favorite tunes.
What happens in it is what makes the enthusiasts consider it in their collection. The turntable includes the three speeds, 331/3, 45 and 78 RPM. That is what will play every other record that you land on so the player does not choose what you can listen to. In it is a belt-driven system that is responsible for reducing vibrations as the sound outputs, leaving you with a distortion-free sound all day long.
Now, if you don't have the records with you, the portable record player Bluetooth function allows you to connect it with your smartphone or tablet. There are also RCA output if you want to play with the combination of a stereo output plus the 3.5mm aux jack for the non-Bluetooth devices.
The sound output apart from the external speakers is brought by the built-in speakers with one large grill area on the front where the control knob theirs. Even without connecting any externals, the sound is okay to fill the room without requiring the additions. To give more quality sound, the bottom part of the record player has a spring that provides shock absorption solution and leaves the sound amplified without any other distractions in its way.
Pros
It's universal which means it plays a variety of record sizes
Bluetooth, aux, and RCA enabled
Compact and light to carry
Nice polished look
Cons
It can be cumbersome to move since it does not come with the suitcase.
The last one is a portable record player that takes things to the next level. Sony is a brand that has seen its way to customers with their high-end products and here is a record player that is compatible with the current digitalization to makes your music accessible and playable on the player.
The Sony portable record player has a stylish body that features an acoustic-grade MDF cabinet, 1.8-inch thick. That makes it appear slim and compact while not compromising on the sound quality. Underneath, it is adequately insulated with rubber stands to eliminate vibration from where it's placed and other nearby items.
Now, to enjoy what you are listening to, Sony includes high-quality audio services to ensure that you have an interrupted playback. It comes with a modernized tonearm that has integrated shell to improve on how long it will be playing. It is also responsible for stabilizing the cartridge if you want a superb focus that delivers the right sound. In it is an inbuilt phono EQ that supports both phono and line output. This means you can play using an integrated amp or the Phono EQ at your disposal.
This record player will allow you to play the old vinyl records using the Hi-Res Audio that allows up to DSD quality. This turntable model can use your PC to play using the USB port available that allows you to do so. You can play the digital records and also be able to record from the vinyl to your PC. It supports RPM specifications of 331/3 and 45-speed variations.
With your PC, this portable record player comes with software that is compatible with Mac. It allows you to edit tracks on both sides of your album and transfer them to a compatible player in their high-resolution order. That means you have a chance to convert tracks that you need to listen anywhere, anytime.
The belt-drive system in it has a spindle bearing that is optimized for natural sound reproduction. Combining that with a 0.2-inch rubber mat that adheres to the record's surface, you get the most natural sound output with no resonance. As the record rotates, there is an aluminum die-cast platter that balances the rotation strength and the mas involved.
As for the sound, the player itself has the output you need, but due to customers complaining about the low tone, you will need to connect the preamp or another external output for optimal sounding.
Pros
High-end modern design
Connects to preamp and line outputs
Sturdy tonearm
Connects to computer via USB
Includes software to help you edit tracks
Best Portable Record Players Buying Guide
After reading the reviews about the various portable vinyl record players to look for in the market, there are other things to consider in general.
We are not going to talk about what a record player is composed of since you can find that easily and they have been there and explored in the 20th century. What we are going to look at are the factors that contribute to a suitable portable player so that you can consider them when buying your favorite choice.
Pick Your Best Portable Record Players
Everyone has a preference when it comes to their favorite portable record player. They all come with different features that make playing music worthwhile and specifications that allow them to be moved from one point to another. On the other hand, our work was to review some of the best portable types to look for and some buying advice.
As we perused the products, the Victrola Vintage Suitcase Turntable won our favor due to its solid construction, versatile playing modes and how comfortable it is to carry. The rest have features that make them way above or lower than this model, but we selected it to represent what the average user and expert would both find beneficial.
Read Also: