Great sound, we all know, has a lot to do with the quality of speakers used. However, it's no news that studio monitors can get really expensive. And, if you've had the misfortune of trying them before, those cheap $100 studio monitors are simply a pain in the ears.
Looking for the best budget studio monitors doesn't have to be so difficult. And that's why, today, we have done you the favor of compiling reviews on some of the best studio monitors under $200 currently in the market.
We've only selected those we are confident in and those that come with a solid track record. Don't get it twisted, this is your plug for the best affordable studio monitors in town that actually work.
So, if you're ready, let's meet some our top seven best monitor speakers under $200.
Yamaha Powered Studio Monitor
Premium Choice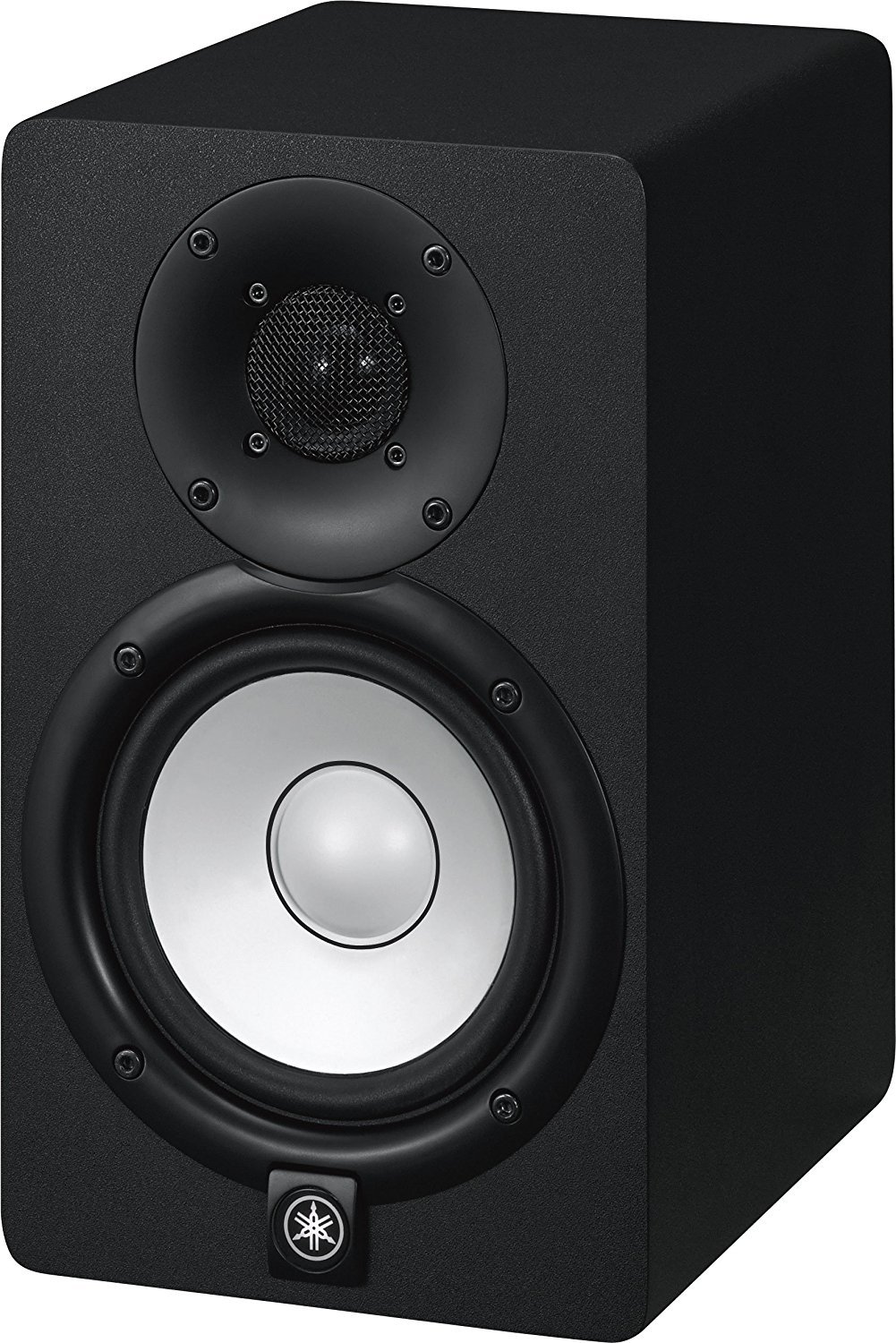 FEATURES

Powerful volume

Simple, attractive design.

Bi-amped transducers.
PreSonus Eris Powered Studio Monitors
Best of 2019
FEATURES

Well-balanced power output.

Very versatile features.

Easy controls.
M-Audio Studio Monitor Speakers
Great Value
FEATURES

Best bang for the buck around.

Altogether decent performance.

Simplistic design.
Reviews of Best Studio Monitors Under $200
We begin our reviews with the stunning Rockville APM8Ws. This is a good-looking pair of speakers for sure. They even come in three beautiful options depending on your personal tastes and the looks of your space.
There's the option for white, black, and a beautiful classy wood finish.
The materials used to make the speakers are also very high quality. So, they don't just look good, they are actually high quality and will definitely stick around.
Now, down to the main business…
Rockville decided to keep all the controls at the back of these speakers so that they retain their simple and clean design. The controls include bass and treble, volume and some other inputs as well. Some of these inputs include the XLR combo input jack, a headphone output, a 3.5mm jack, a USB port, and an RCA input.
We especially like the USB port touch because it makes it very easy to plug into your computer without needing a drive. This is one feature that will sure come in handy at some point.
Next, the surrounds…
Rockville uses rubber woofer instead of foam here. Normally, this should help to reduce sound distortion to the barest minimum. This, ultimately, impacts on the performance of the speakers causing it to improve significantly.
We are also really impressed with how these speakers do on the bass performance part too. They might look small, but appearances can truly be deceptive as they tend to vibrate the floors at any volume above 40%. Yup! We tested.
As for the highs, we like that they are really crisp. The mids are also very distinguishable as well.
So, altogether, these studio monitors give a "splufic" listening experience. Easily one of the best studio monitors under $150 we found!
Pros
Amazing sound quality for the price.
Powerful playback.
No distortion.
Simple design with lovely options.
Cons
The treble controls could be significantly improved on.
The price of this speaker was literally a close shave. It was almost $200, but somehow it escaped. Lol. Anyway, the Yamaha HS5 is at our number two spot today and we can't wait to tell you all about it.
The performance of this speaker is simply topnotch, and you have to give it that. Also, Yamaha did very impressively on the trebles and mids. The responses from both are really good.
But here's where we have a little challenge: the lower frequency range.
As with all 5 inch studio monitors, the lower frequencies are not so good here. Now, Yamaha might promise a lowest frequency of 54Hz, but according to our findings, this is largely inaccurate. This speaker will only get to 70Hz at best. Anything below that, just forget it.
Nonetheless, in all honesty, that's about everything that's wrong with this guy. The overall sound quality from the speaker is really excellent.
Check out the level control. It is straight to the point and very easy to understand. The inputs are also great, with an XLR input included to add to the TRS one.
Also, we love the room settings that help you to adjust your sound till you get something that's just right for your space.
Thankfully, Yamaha made things such that each transducer comes with its own amplifier. In other words, the speaker is bi-amped.  Now you won't get caught in the middle of any transducer conflict while navigating the frequency range.
Last but not the least, we'd be lying if we didn't say that we love the design on this speaker. The design is minimalist so the speaker comes out looking rather boxy, and classy, if we might add. It can pretty much stay anywhere at all and its lightweight makes it easy to move around.
Note though that the price on this product goes for only one speaker (NOT a pair).
Pros
The fantastic response across range.
Powerful volume.
Simple, attractive design.
Bi-amped transducers.
Cons
Performance of bottom range is poor.
Next up is the PreSonus Eris E4.5. It comes as a pair (important information since the last one we reviewed came singly).
Now, we probably know what you're thinking: 4.5-inch drivers? C'mon! What's the difference between those and the ones we get on cheap studio monitors for $100 or less?" Yes, this is a valid concern but please allow us allay your fears.
Of all the speakers offered by PreSonus in the Eris series, these speakers are easily the most versatile of them. The frequency response of the speakers is so good, it sounds terrific right out of the box!
Agreed, the bass is a little too much bass than we can use but, like we said these speakers are versatile and flexible. With a few acoustic controls reset in the back, the matter can easily be sorted. And the controls are so easy, all you need do is flip a switch.
The Kevlar transducers are pretty sweet and are really fabulous at what they do. The nice silk dome tweeter on each of them only serves to make them work even better.
We love the controls on the back of the speakers too. At the I/O cluster we have the TRS and RCA inputs, plus the acoustic controls we talked about, as well as mid/high knobs and a low pass filter. Also, if you need to tighten your frequency response at any given time, there is an acoustic space control for that.
Beginners and pro DJs alike would love these speakers. And even in confined spaces, they manage to deliver pretty well, the power output always sounding balanced.
The design of these speakers can't be said to be their strongest point. But then, whoever bought a speaker to decorate their space? This is not to say that they are terrible-looking though, but we've sure seen more attractive speakers.
In the end, we take solace in the fact that PreSonus seems to have its priority straight. The brand obviously chose to invest more time into making these speakers one of the best speakers under $200, other than just attractive useless boxes.
Pros
Well-balanced power output.
Very versatile features.
Easy controls.
So, the first time we saw these we were like "whoa! How sleek!" But upon closer examination, we saw how the external features of these speakers might present an issue. However, for looks, these speakers are just fine.
Now, here's where the challenge lies…
They are large and somewhat heavy. They measure in at about 12 x 20 x 10 inches, and weigh in at about 14 pounds each. If you don't have enough room or you were hoping to move your speakers around a lot, then you might have a problem with these guys.
But the design is good though. They are all-black speakers and have their cabinets finished with a tactile matte plastic. Although this touch makes the speakers look really cool to us, some people don't agree. They feel it will soon get unattractive as dust, fingerprints, and scratches begin to accumulate on it.
What say ye about that? It's your call.
On to the features…
These two speakers although a pair, are somewhat different. There is the master speaker, and the… errr.. well, other speaker.
It's the master speaker that houses all the inputs you need from the XLR input, to the TRS input to the ¼ inch. Also, of course, there's the USB connecter which will prove a really handy feature when connecting your monitor to a digital audio source.
Now, here's what really warms our hearts about these inputs: they can all be used at the same time. Switching between input from an interface or audio from your computer or an input jack will now be so breezy, you'd love it.
As for tweeter adjustment, the options aren't wide and varied. Nevertheless, we came to see that the -4dB, -2dB and +2dB options available were really all you needed to cover most of the bases.
Overall, this is a decent set of speakers. The bass could be better but then again, speakers at this price range aren't known for their powerful bass output. The output you get is balanced, and natural. Plus these speakers can get really loud too.
Pros
An unassuming yet elegant design.
Loud volume.
Balanced performance output.
Controllable tweeter.
USB connecter.
Cons
Doesn't do well in the bass department.
For the DJs in the house looking for the best DJ speakers under $200, these speakers at our number five position today are dedicated to you.
In the art of DJing, it isn't just about sounding good, you've got to have the glitz and glam to juice things up. Of all the speakers you'd meet at this price range these are, probably, the flashiest you might come across.
When off, these speakers look like your everyday speakers but once they come on, then the party really begins. The LEDs begin to glow and change color, adding the live to the party. These colors can be set to glow in any of two patterns: slow cycle or pulsate.
But, hey, we understand that these lights might just be an unnecessary feature for some, and that's okay. We never said the Numark N-Waves were for everybody. Plus, you can just turn them off if they bother you so much.
Now, let's get a little more technical…
Thankfully, these speakers can take you as low as 55Hz. Also, to eliminate that awful interference that occurs with speaker and other magnetic media, the drivers have been fitted with magnetic shields. You might find that a lot of other speakers assure you of this feature but only few of them actually deliver.
From our findings, Numark was true to its word. None of the speakers created any significant interference when used around other equipment.
The bass articulation here is better than what you find in most speakers, thanks to its electronic bass boost circuit. However, don't expect it to blow your mind. If you can just lower your expectations a bit, you'd enjoy these speakers.
The volume is good, and the sound is balanced and warmer than most speakers of a similar size. The highs and mids are also generally well distinguishable, rich, and crisp.
They might not be the best compact studio monitors in the world, but for this price, they are definitely one of the most decent, affordable pairs you'd find.
Pros
Fun LED lights.
Well-balanced, warm sound.
No interference with magnetic media, and other equipment.
Cons
A bit of distortion when volume is ramped up.
Bass could be more powerful.
One set of speakers that would hardly feel out of place in the family of best inexpensive studio monitors are the M-Audio AV42s. If your budget is really super tight but you can't compromise on sound, then get these guys. They sure give you a good bang for your buck.
These M-Audio AV42s reach really low in the frequency. At least, they get low enough to cover whatever production needs you have on a low budget. In fact, they do a fantastic job there.
However, even though the manufacturers claim that their speakers can reach an incredible 24 Hz, we find this rather hard to believe. The drivers we are looking at are 4 inches, it would take a miracle for the speakers to get that low. But still, we will recommend these speakers to producers working on a budget.
Next, we look at the power output, 20 watts. Don't get too disappointed yet. The speakers still find a way to make things work so everyone is happy. While you may not get eardrum-splitting volume, the sound is definitely good enough to create a nice environment for you to mix and master.
If you've used the immediate younger brother to the AV42, that is, the AV32, then you'll find that the AV42 is just a bigger version of its older brother.
The features you get on these speakers are the very basic: ported cabinets, passive speaker outputs, RCA inputs, and a good old power button. That's it. Just the basics like we said. This might be a bit disappointing because it's the lower end models that are usually this basic. But then these speakers themselves are only a couple of dollars away from lower end models, so…
Altogether, the speakers themselves are pretty solid and look durable. The transducers are also good and stacked in the normal fashion. Only thing is they do not come with any grille whatsoever to cover them. Maybe this was a cost-saving move on the part of M-Audio, but that design is not amazing.
But finally, what's important is that the speakers deliver on performance in a fair enough manner. The M-Audio AV42 sure does that. And especially for this price range, it does deserve some commendation.
Pros
Probably the best bang for the buck around.
Altogether decent performance.
Simplistic design.
Cons
No acoustic room controls.
The simple, nearly featureless design of the Alesis Elevate 5 MKIIs won't cause your jaw to drop. On first, and continued glance, it looks very ordinary and will blend into any environment without standing out.
Perhaps the only thing that's closest to a distinct feature on these speakers are the two firing ports in the front part of these speakers. These firing ports with their MDF help to reduce cabinet resonance. So, it's really more about the quality of sound than the aesthetics of the speakers.
Their size is great, somewhere in the middle of large and small. So, if you don't have so much space, there's no need to worry as these will work just fine. And if you choose to put them somewhere close to your walls, that's also fine. The firing ports in front will keep them straight.
The power output on these speakers is above the average we have come to expect from speakers of this price range. Standing at 80 Watts total output, we are certainly impressed by how these speakers do on their power output.
The controls on the back are pretty basic, so don't expect anything sophisticated as you might find in a higher-end model. For instance, get your mind off an acoustic room control, and think more I/O cluster and Bass Boost switch.
More about this Bass Boost Switch…
This switch helps you to switch easily from a transparent sound (which it could do better on) to a lower bass response. But then again, it comes with a 5-inch driver so don't expect it to go really really low. The best you'll get is 50 Hz. Whether or not this is a deal breaker is entirely up to you. Just keep in mind that these aren't your go-to speakers for thumping bass.
Pros
Powerful enough for the price.
Simple design.
Quality cabinets.
Transparency of sound is fair enough.
Cons
Frequency range doesn't dig deep enough.
Our Favorite Studio Monitor Speaker
The Rockville APM8W 8inch 2-Way 500W Active Powered USB Studio Monitor Speakers. We love how they look so unassuming and yet pack a very mean punch, especially in the departments of power and performance. They offer lots of nice features and even color options.
Compared to Yamaha, the price you pay gets you two speakers here. And its bass response is far more solid than the Yamaha speaker.