Whether it's for a return to the good old days or simply out of nostalgia for having something vintage in your household, turntables, and vinyl are making a huge comeback in 2019. And for the better. They're getting sleeker, more modern, and will satiate your taste for the retro ways of listening to music. If you find yourself craving the look of a turntable in your living room, then look no further!
Best Turntables Comparisons (2019)
Fluance High Fidelity Vinyl Turntable
Premium Choice
FEATURES

The beautiful walnut finished

Perfect playback

High performance AT95E Audio
Audio Technica - AT-LP120-USB
Best of 2019
FEATURES

Direct drive high-torque motor

Selectable 33/45/78 RPM speeds

USB output
Audio-Technica AT-LP7
Great Value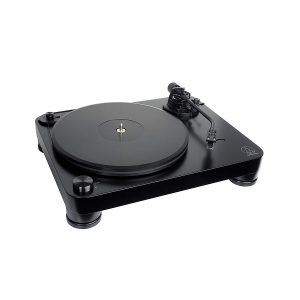 FEATURES

Built-in switchable

Anti-resonance platter

J-shaped tone arm
Audio Technica's flagship turntable is fully manual and utilizes a belt drive to bring out the best sound from your beloved vinyl.
Priced at around $800, the AT LP7 offers the perfect balance between premium, high-end quality with regards to build and design, and the price point between middle-tier and upper-tier turntables.
A J-shaped tonearm is present to reduce any errors in reading from the vinyl and a 40 mm thick MDF alongside a 20 mm anti-resonance platter.
The AT Lp7 can reach a height of 6 mm and has a rotational speed of 45 RPM.

Next in line is Audio Technica's AT LP120, with a max rotational speed of 78 RPM and an AT95E stylus.
With a vintage metallic feel and a price range of $250-$300, the AT Lp120 promises to be the best starting turntable you can get your hands on.
With USB capabilities, this turntable offers portability like never before and utilizes a cast aluminum platter with a physical start/stop button alongside a high torque direct drive motor.
AT LP120's adjustable pitch slider, speed settings, and availability in either silver or black ensures it's a standout amongst the competition.

The VYGER Indian Signature IV is unlike anything in this list – both according to price and design.
Looking like something straight out of a sci-fi movie, the VYGER consists of a system of air pumps for stability, flow, and overheating alongside a brushless motor for silent operation.
Fitted with the Vision tonearm, the VYGER is completely noiseless, tested and proved to be so, and with the three aluminum towers on which the structure is based, the turntable is protected from oscillations that distort the quality of the sound.
Priced at an outrageous $65000, the VYGER is definitely "The Analog of the Future."

Audio Technica seems to be dominating the list so far and rightly so. The AT LP60 offers two speeds you can play at 33 ⅓ and 45 RPM.
Furthermore, it came out in both silver and black and coupled with a $99 price tag; it becomes the dream turntable with regards to portability.
A compact yet sturdy frame, a die-cast aluminum platter, and a fully automatic belt drive makes it the right choice if you're just dipping your toes into the world of vinyl and turntables.
It also comes equipped with an ATN3600 stylus and Audio Technica Dual Magnet cartridge.

Priced at the same $99 as the AT LP60, the Numark PT01 USB is another dream buy if portability is what you're looking for.
It also offers USB input and direct output to headphones for those who want a personal listening experience.
Aside from the speeds of 33 ⅓, 45, and 78 RPM offered, the Numark PT01 offers conversion of 45s, 78s, 12-inch LP records into digital files.
Despite having a slightly flimsy plastic frame, with its guaranteed quality, price point, and a handle to carry it around with, this turntable will not disappoint.

Just like the VYGER, the VPI Avenger Plus is the manifestation of unprecedented turntable design and consists of a chassis with three layers of bonded aluminum and damping material present between all platers.
Adjustable knobs are present allowing users to raise and lower the height of the table and suit their individual needs.
With a JMW 12-3DR tonearm, the rim drive system of the Avenger Plus has an analog drive system that enables precise motor movement and speed adjustments.
Coming in at around $15000, the VPI Avenger Plus is a fantasy turntable for most, and those are willing to put that money in, there's nothing better.

The DP 300F succeeds its past models with an improved base that reduces shaking due vibration and along with this, better performance overall.
As expected, this turntable is also made of diecast aluminum with a manual lifter for the needle, enabling you to play any part of the record at any time.
With a minimal design and sleek interior, the DP 300F's aesthetic is its standout feature.
It's equipped with a DC servo motor that allows for two rotation speeds. With an MM cartridge, Denon's latest product ensures a leisurely time with your record collection and priced at around $300; it won't make a dent in your wallet!

The SL 1200GR improves on it's by predecessors through the addition of a coreless direct drive and better motor technology.
What this does is it enables vinyl tracking with lower vibrations and higher sensitivities on top of a rigid platter.
The SL 1200GR's metallic, glossy, and extremely functional design alongside its $1600 price tag makes up for a premium turntable that will make nothing but the best.
The inputs are gold-plated, enabling a plethora of cables to be used, and with silicon insulators to allow for sound damping, the highest quality and most stable of sounds are produced.

Differing from most of the turntables on this list, the Technics SL 1000R comes with a direct drive motor system and a platter to top it off.
No matter what the cartridge is, the SL 1000R ensures noise reduction by utilizing ultra-low-noise switching power supplies and consists of a platter made of brass, die-cast aluminum and rubber.
Capturing the attention of the elite tier crowd, and fitting into it, the Technics SL 1000R comes in at $20000.
The use of premium material and technical expertise of Japanese craftsmen in the making of this justify the price. With a magnesium tonearm and high-precision bearings, the SL 1000R assures buyers of an enriching and alluring audio adventure.

Lying in the vicinity of the DP 300F's price tag, the Fluance RT81 is up next with a $350 label. What this gets you is an old-fashioned, nostalgia-inducing wooden base turntable made from MDF walnut wood, an aluminum platter, and a rubber slip mat with an aluminum S-Type tonearm that ensures every detail at any depth in the record is picked up and played.
With a preamp manufactured by Texas Instruments, the RT81 also has a ground terminal and gold-plated RCA line that allows rich, satisfying tunes to be heard.
Added to all this is the high-fidelity belt drive that makes the RT81 a must buy.

Building upon the shortcomings of its predecessors, the Thorens TD 190-2 is equipped with an electronically controlled DC motor that enables better silent running while improving the quality of the sound.
The design is fully automatic, allowing for a completely hands-off experience, and it can play three speeds: 33 ⅓, 45, and 78 RPM.
All this is coupled with a counterweight on the tonearm that ensures stable and smooth reading off of the vinyl and this turntable also comes with the Ortofon OMB-10 moving magnet phono cartridge.
Available in two colors, black and silver structured enamel, the Thorens TD 190-2 is something you just get your hands on for just $700.

Stepping up in price, we find ourselves at the Pro-Ject Debut Carbon, aptly priced at $400.
Even though there is no USB connectivity, the Debut Carbon houses a carbon tubed tonearm – exclusively used in the high-end turntables – which decreases resonance from vibrations and allows for a better listening experience.
Through the use of both DC and AC, the Debut Carbon offers extremely precise frequencies of sound on a synchronous motor using TPE motor suspension.
With a felt mat included alongside a dust cover that protects your new turntable, the Debut Carbon is available in 7 glossy colors that promise to appeal to all sets of eyes and ears.

Pioneer's new PLX 1000 is the epitome of affordable, high performance, direct drive turntables.
The direct drive belt is a change from the traditional belt drive and more suited towards the needs of DJs. Weighing just 13 kilograms, the PLX 1000 is all manual and contains stereo RCA phono output jacks alongside an IEC AC power connector.
Even though the PLX 1000 offers two speeds – 33 ⅓ and 45 RPM – it has a speed control of around 50%, and with its die-cast zinc chassis that prevents resonance and vibrations, it's priced at around $700.

Voted the Best Turntable under 500 in 2019, and uniquely crafted from phenolic resin, the $475 Rega Planar 1 is a sight for sore eyes.
With the new RB110 tonearm, the Planar 1 ensures no issue in setting up your new decoration.
The low noise, 24V synchronous motor drastically reduces vibrations, and with automatic bias adjustment present, this turntable promises minimal maintenance and a relaxing and easygoing experience.
With ergonomic button placement, the Rega Planar 1 is available in either black or white (both glossy) and utilizes the flywheel effect for maximum stability.

If you're looking for a mid-tier turntable that isn't a part of the elite tier and won't empty your coffers and one that isn't entry level, turn your attention towards Thorens TD 203.
With two counterweights that allow the stylus tip and tonearm to sit vertically in the grooves of the vinyl and the stable suspension present, the TD 203 ensures a functional addition to your home and promises a unique experience.
Despite lacking a bit of personality like the elite tier turntables, the $1000 Thorens TD 203 is minimal and modern in its exterior and will make for an aesthetic inclusion to your music inventory.

The Marantz TT-15S1 is priced at a whopping $1500, but it's easy to see why. With a high-density acrylic platter and low resonance chassis, it's all premium from top to bottom.
An asynchronous/non-AC servo motor alongside a Clearaudio Virtuoso cartridge means you only hear your record only. Nothing else.
The TT-15S1 also hosts a minimal design that is all set to blend in with the aesthetic of your home.
An adjustable counterweight alongside aluminum feet for support and an anti-skating ensures your device goes nowhere. If something priced at $1500 could be a bargain, then the Marantz TT-15S1 is a steal.

With a refreshingly peculiar and unique design, the Acoustic Signature WOW XL sits on the top of a wood base reinforced by an aluminum top.
With a belt drive running through an AC motor, the Signature is damped all around with a special material that produces unrivaled sound.
Exchangeable arm boards and buttons for settings are just additional features that make the Signature so usable and functional.
The Tidorfolon platter bearing is Acoustic's special invention, and it's one of the main reasons why the Signature's price is a staggering $2800 – it's the best of the best intended for the most severe and enthusiastic audiophiles.

Clearaudio's Concept turntable packages a modern, hi-fi look into a wood body that hosts a plastic compound that mitigates any unwanted and unnecessary resonance.
Clearaudio has also incorporated voltage stabilization to their design to decouple any interference (mechanical) to the system, and alongside a magnetic bearing tonearm, that allows friction-free performance and negligible distortion, the latest Concept cartridge is present.
With premium materials and substances like polyoxymethylene and Teflon used in the thrust pad, the $1600 price tag makes sense.
Besides all these features that make the Clearaudio Concept a must buy, the company also provides a two-year warranty if, surprisingly, the Concept does not exceed your expectations.

Taking a step further from the price range of the Signature, we find ourselves in the realm of $4000 – buyers beware! The Linn LP12 Majik offers a classic take on the modern turntable but with every contemporary feature and an aesthetic build incorporated flawlessly.
Available in oak, cherry, black, ash, rosenut, and walnut, the LP12 will surely fit into any household theme and amplify the audio experience.
Listing the parts of LP12 just justifies the price tag; it houses a keel machined sub-chassis and arm board alongside Ekos SE precision tonearm.
Furthermore, the LP12 has a Kandid moving coil cartridge and a Urika II moving coil that is a part of the suspended base, all making the LP12 the dream buy for an audiophile.

Sony's Walkman is one of the most famous names in music today.
With their PS-HX500, you can convert your favorite vinyl to a digital format and take them along wherever you go.
Aside from this portability, the sleek and slender frame of the PS-HX500 allows for both phono and line output.
Priced at around $500, the Sony PS-HX500 has a minimalistic black exterior – which could also be considered a bit too simple for the price range. A simple knob allows you to alternate the speed between 33 ⅓ and 45 RPM and the one-piece tonearm allows for extremely stable and precise tracking of the vinyl.

Next in line in the elite tier is the Oracle Delphi, coming in at $8000.
The open-air design of the Delphi allows reduction of resonance and has minimal moving parts – just enough to function – but made of premium materials.
The platter and sub-chassis are laminates with counterweights present for stability. The tonearm is a Graham tonearm and incorporated into the Delphi's platter is a record-coupling mechanism.
A threaded spindle and clamp hold the record to the top of the platter and washers are used to keep it there. Oracle also incorporates their Micro Vibration Stabilizer system into the Delphi through the use of fluids.

Despite being a turntable, phono stage, amplifier, line preamplifier, and Bluetooth receiver all in one, the Juke Box E is one of the easiest devices to unpackage and set up in your home.
With a $400 price tag, the funky, vibrant, and modern design of the Juke Box E houses an anti-skating mechanism alongside a tracking force on plywood felt mat.
With a dust cover included, and adjustments available for power supply and RPM, the Juke Box E won't cost you a fortune and would slide right into the decor of your home.
23. AMG Giro

Designed like a set of gym weights, the AMG Giro will set you back a good $12000.
However, what's offered makes that price tag make sense.
With a 9W2 tonearm and a belt drive made of both synthetic materials and aluminum, the AMG Giro ensures a never-heard-before audio experience. With satin finished, aircraft grade aluminum, the Giro's 9W2 tonearm has all the pivotal abilities: bearings and anti-skating adjustments.
The clamp consists of anodized aluminum and has an inverted thread attachment to a decoupled spindle, and the AMG Giro also houses backlit capacitive electronic buttons for easy reconfiguration and adjustment.

A $6500 price tag follows the McIntosh MTI100's modern yet intentional amateurish electronic feel.
This is because this turntable consists of an all-in-one media playback system incorporated into a sleek wooden finish.
The list of capabilities and features is endless: power amplifier, Bluetooth receiver, auxiliary input, subwoofer output, vacuum tube preamplifier, a shielded phono preamplifier, digital audio coaxial and optical inputs, and a headphone jack. The belt drive consists of a manual speed change mechanism that allows for synchronization between the AC power and rotational speed and enables the most accurate playback possible.
As the amalgam of all these features with so many capabilities, the McIntosh MTI100 is a must buy.
25. SME Model 15A

The SME Model 15A is based on aluminum towers supporting the plinth and platter of the turntable itself.
Controls are present for buyers to adjust the height of the towers and the bearings are fitted as such under the platter to reduce vibrations.
Controls are present for buyers to adjust the height of the towers and the bearings are fitted as such under the platter to reduce vibrations.
The SME Model 15A comes with the Model 309 SPM tonearm and will cost you around $13000.
Alongside this, the Model 15A makes use of a moving coil that produces smooth and flawless sound, and by using washers underneath the physical vinyl itself, it creates a damping effect that improves the quality of the sound by reducing the vibration and distortion.

With a barely noticeable price range of $100 – $150, the ION Audio Max is the best budget turntable out there right now. With a simple, amateur, entry-level wooden finish, the Audio Max LP offers the use of software through which you buyers can separate tracks and files and convert them to digital files on your portable file.
With built-in stereo speakers, the Audio Max LP offers a very personal and connected listening experience and will fit right in with your immediate and enthusiastic music needs.
A much-needed dust cover is included, a felt slip mat, and cables to connect with, all making the Audio Max LP the best turntable you can buy in its category.

Clearaudio's 2nd turntable in this list is priced at a bewildering $28000.
However, with its visionary design and next level features, it's a must buy if you can afford it.
The Master Innovation's unprecedented stability and speed are achieved as a result of Clearaudio's patented ceramic magnetic bearing, additional flywheel, and DC motor. Through the Optical Speed Control, it also makes use of an infra-red sensor to detect and adjust speeds automatically.
Keeping in line with Clearaudio principles, a 5-year warranty is offered (just like the Concept's 2-year warranty) with the turntable, and if you have the money, you aren't going to find anything quite like this.

Another outstanding middle tier turntable is the Yamaha TT-S303.
At around $450, it provides the perfect blend of premium materials, functionality, and design. The minimalistic, slender black design will not be a standout in your aesthetic and will slide right in.
The static, balanced tonearm allows for accurate pressure from the stylus while tracking and playing sound, and a high inertia platter allows stable rotation.
Furthermore, the Yamaha TT-S303 has a built-in phono preamp for line/phono output and a rigid cabinet that deals with unwanted vibrations. If you crave a different way of listening to your records, just switch to the phono EQ amplifiers and connect your favorite device.
29. OnkkCue DD
The OnkkCue DD is another addition to the list of elite tier turntables, priced at around $15000.
With a direct drive plate and DSP speed control present, the OnkkCue DD has an odd yet interesting design that is funky, functional, and standout at the same time.
A plinth of cast aluminum, pistonic suspension, and ceramic bearings are all on the list of features that allow for the playing of silent music with no unnecessary vibrations.
The unique thing about OnkkCue DD is the usage of a User Interface through which buyers can set their preferences and save speed adjustments to access them later on quickly.
Furthermore, the Yamaha TT-S303 has a built-in phono preamp for line/phono output and a rigid cabinet that deals with unwanted vibrations. If you crave a different way of listening to your records, just switch to the phono EQ amplifiers and connect your favorite device.

The Rega Planar 2 is different from the first one and is offered in three colors, red, black, and white.
Priced at almost $700, it houses the new RB220 tonearm paired with a low noise motor, acrylic plinth, and new central bearings.
The new feet on which the structure is based allows for more stability and vibration reduction and the Rega Planar 2 also makes use of new 'optiwhite' for the build of the platter.
To keep your new turntable in the best shape possible, covers and lids are also supplied, ensuring your turntable looks and feels like new every day of the week.
See Related Articles: