A high quality sound is essential for full and satisfactory experience when ​listening to some of your favorite songs. Similarly, ​there are lots of options for wired and wireless earbuds currently on the market. This makes it quite challenging to find the best product.
Wireless earbuds come as a relief if wireless headphones get heavy and inconvenient for you. That said, if you are looking for affordable, high quality sound, comfort, stylish design and sweatproof earbuds, the Phaiser Bhs-730 Earbud should be your option.
Before looking at the Phaiser Bhs-730 Earbud Review in detail, it is imperative that we outline some of the factors to consider when searching for the best earbuds in the market.
The Phaiser Bhs-730 Earbud Review
The Phaiser Bhs-730 Earbud Review come as ​a perfect choice if you have been looking for a pair of Bluetooth headphones to invest in. They are a popular choice among audiophiles looking for high fidelity sound, full wireless freedom, and exceptional comfort.
Phaiser Bhs-730 Earbud Features at a Glance 
◇ Sweat and water-resistant
◇  Lifetime sweatproof warranty – if the earbuds get damaged by sweat, you get a new replacement.
​◇ High-quality sound – features 8mm speakers for powerful bass.
◇ Memory foam tips offer great external noise isolation
​◇ Magnetic and secure fit
◇ Made of high quality materials​
◇ Takes up to 6 hours when fully charged
◇ Built-in microphone
Main Feature Details of Phaiser Bhs-730
Sound Quality 
The sound is perhaps the first thing to consider when looking for quality wireless earbuds. The treble, bass, and power of the sound system ought to be of high quality, which characterizes the Phaiser Bhs-730 Earbud.
The earbud is equipped with 8mm speakers with an up-to-date Bluetooth version of 4.1 that ascertain high definition sound as well as accuracy in terms of highs, mids, and lows. Besides, the earbud uses a powerful transducer and hardware combination that work together in producing excellent quality sound.
The A2DP stereophonic transfer codes deliver powerful and robust bass, frivolous treble and high-end clarity that allows listeners to crisp extra fine audio details without much effort.
The other sound quality feature of the Phaiser Bhs-730 Earbud is its noise cancellation ability. This design means that you can easily hear your music or audio files without external or background noise distraction.
Design and Durability 
These earbuds' durability is apparent the first time you get to handle them. They are of simple and subtle design. Perhaps the highlight of this feature being the premium look that makes it look like an expensive model. The materials feel premium.
They have silicone tips that are winged providing a nice snug fit around the ears. They securely and tightly fit the ear thus reducing the ambient background noise. It also drowns out normal conversation and vehicle noise.
Each earbud of this device is made of aviation grade aluminum and magnesium alloy that produces a strong and utmost sturdy feel without compromising on its weight. Additionally, the Phaiser Bhs-730 Earbud is equipped with Liguipel Nano coating that provides exceptional durability.
Additionally, they come with a nice assortment of ear tips you can choose from. There are two extra sets of ear hooks that allows the user to make adjustments when necessary. The Phaiser Bhs-730 Earbud also comes with magnets that keep them secure around the neck when they are not in use.
Perhaps the highlight of this main feature being sweat and water resistance. Phaiser Bhs-730 Earbud is available in five colors – Oceanblue, Limegreen, Redheat, Heliotrope, and Blackout.
Fit 
As mentioned before, you will notice the Phaiser Bhs-730 Earbud's unique design from the first glance. This may look like any other ordinary earbud but have a patented winged tip design that stays snug around the ear. With this, the earbud remains in the ear with a good fit even through rigorous activities such as biking, running, or when playing tennis.
Best of this all is the magnetic strips built into each of the earpieces that maintains them around your neck without becoming messy or tangled. With this, you can store them around your neck when not in use.
Battery Life 
As with many wireless devices, it is of immense importance to know how long it takes before the battery needs to be recharged again. With the Phaiser Bhs-730 Earbud and other similar models, you can use it for up to 6 hours with continuous playback.
The device tends to be fully recharged within 90 minutes. The introduction of LifeState technology made it easier to monitor the remaining battery life from your Android device or iOS. This keeps you informed on the times you need to plug in a charger.
Calling Options 
An extension of an easy calling option is what many people enjoy from both wired and wireless headphones. When enjoying your quality music and an incoming call comes, you don't need to take the Phaiser Bhs-730 Earbud off to answer the call.
All you need to do is press a small "call" button, and the headphones quickly pick up the call, hands-free. Remember this device has an integrated microphone in the earbuds that captures your voice clearly without any distortion.
Additional Accessories 
In addition to these high-quality earbuds, several essential accessories pair well with its comfort and performance. Some of the items that come as accessories include three sets of ear hooks, two clips, earphone tips, three sets of earbuds, an easy to read the instruction manual and a micro USB cable for charging.
Manufacturers have also included a handy travel case that makes it easy to store and a protective solution when you need to store them. The mini case is zip-secure to keep them constantly secure.
Pros:
Some of the advantages of this earbud include:

Great sound quality with powerful bass and treble

Features the latest Bluetooth connection

Quick and easy pairing process – compatible with all devices

Offers up to 6 hours battery life

Good for working out and other outdoor activity

Ergonomic and cool design

Made of high-quality materials

Water and sweat-proof

Offers excellent noise cancellation
Cons:
Among the few drawbacks of this device include:

They provide a great fit if placed correctly in the ears. Otherwise, they may fall.

Battery life is relatively shorter than other brands

The range of Bluetooth connection is short
Who Is the Phaiser Bhs-730 Earbud Best For? 
The Phaiser Bhs-730 Earbud is an ideal choice for all sports personnel who regularly engage in workout routines and are music enthusiasts. They take your listening experience to a whole new level.
User Reviews about Phaiser Bhs-730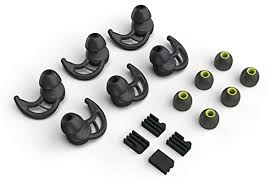 Like other products in the market, the Phaiser Bhs-730 Earbud has attracted both positive and negative reviews. However, a majority of them pointed out on this device's impressive features including excellent sound quality, perfect construction, and design.
On the negative side, some users complained of the short Bluetooth range and short battery life.
3 FAQs about Phaiser Bhs-730
Is the Phaiser Bhs-730 Earbud compatible with all devices?
Yes. This earbud uses the latest Bluetooth version that perfectly connects with all types of devices.
What is the Bluetooth range?
The range of this earbud's Bluetooth is approximately 40 feet.
Does it have a built-in microphone?
Yes. Even if you are connected with two devices, it still takes incoming calls. The microphone has great clarity.
Phaiser Bhs-730 Earbud Alternatives
If you find this product, not your preference, feel free to consider either of the following alternatives.
Factors to Consider When Buying Wireless Earbuds
For many people, wired earbuds are quite inconvenient to be used on a daily basis. Perhaps the reason why people are still using wired earphones is their cheap nature. Nonetheless, since wireless earbuds were incepted in the market, they are increasingly becoming popular.
Well, here are some of the essential considerations to look into before buying your next pair of wireless earbuds.
Sound Quality 
Audiophiles certainly understand why having quality sound quality is of immense importance. Concerns of sound quality with wireless earbuds are the reason why these devices gained minimal traction initially. Note that without a physical connecting cable, audio signals will have to pass through many stages and obstacles before reaching your ears as sound.
Just to mention, it must be compressed, broadcasted from a transmitter, received by a receiver before being pieced up together. It should then be amplified into actual sound. With all these happening, some of the sound quality will be affected.
The other issue is that there is a varying quality of sound produced depending on the hardware. This explains the reason why your music could sound different from different phones.
On the other hand, wired earbuds maintain the sound quality of an audio file, except in cases where there are issues with the jack and insertion points.
Form, Comfort, and Size 
These three features are what many people often consider when looking for earbuds. Many users intend to wear the earbuds for several hours daily. This is why they have to be comfortable and convenient.
You should also pay extra attention to the style. Wireless earbuds do not look that good as their sleek-looking counterparts.
Battery Life 
As at now, the average battery life for wireless earbuds ranges from 20 hours to 30 hours. This eliminates the need for charging them frequently. Some brands sell replacement batteries for users to find a convenient option.
If the battery runs out, these earbuds have backup cables that can be connected to power sources and used as wired, without batteries. Nonetheless, if you prefer some portability, you will prioritize these wireless models.
With their small size, these tiny earbuds have batteries that can last up to 6 hours on a single charge. However, battery life will directly depend on the usage. Besides, if the battery runs out, you can attach to the backup cable and continue enjoying your music.
The other factor to consider when it comes to battery life is the charging time. If you forget to charge your wireless earbud once you are home, you may not be able to use it the next day. Nonetheless, as mentioned you can use it while charging though you will lose portability and convenience advantages.
Controls and Pairing 
If you have used wired earbuds before, then you could be used to controlling volume, play/pause with physical buttons along the connecting cable. Wireless headsets are not much different.
A majority of wireless earbuds have controls on the earpiece itself. Initial models had protruding controls whereas modern earbuds use touch controls. A few of these models can be controlled by voice or external apps.
Regardless of the model, the control method and to an extension its style is of much importance that you may think. Many manufacturers often opt for style at the expense of functionality. Choosing either depends on your needs. A perfect example is wireless earbuds made specifically for gym-goers.
The other thing to consider is how the earbuds pair with external devices. Most devices use Bluetooth to pair with the phone or external speaker while others may have NFC functionality. Others combine both technologies into one, meaning that you can pair them via Bluetooth or by simply tapping the NFC device.
Price 
With all the above-mentioned factors at hand, it is time to consider the price. As with other devices, premium models, of course, comes at a premium price. Therefore, if you are in search of wireless earbuds with advanced features such as exceptional noise cancellation features, great design, and incredible sound quality, then expect to cough some good amount of money.
Similarly, if you are in the market for an appropriate pair of wireless headphones for typical music listening and voice chatting, an inexpensive earbud pair can do.
If you consider the features mentioned above, you could be describing the Phaiser Bhs-730 Earbud. Rated the best wireless earbud, it is a feature packed model with exceptional comfort, durability, design and build quality and good battery life.
Final Thoughts about Phaiser Bhs-730 Earbud
Built with exceptional quality and wealth of features, the Phaiser Bhs-730 Earbud is a cost-effective solution for listening to the high-quality sound and top-most comfort for audio enthusiasts. Featuring unique magnetic abilities and latest Bluetooth version as well as A2DP stereo transfer protocols, this earbud provides amazing and crystal-clear sound.
If you doubt the product, take advantage of the 60-day money back guarantee that gives you time to make a decision. With this guarantee, you will have nothing to lose as you will send them back if you aren't satisfied. Additionally, it is protected by a lifetime sweatproof warranty that covers against loses if they get damaged or fail to work because of sweat.