Since 1996, USB connectors have come a long way to standardize how we connect devices for charging and communication. The original idea was to provide 'one highway' for all cables, connectors, and power and data transfer capabilities between electronic devices. While it seemed a big dream that was almost impossible to reach, after making it, it was up to every other electronic designer to utilize what this type of connector can do.
Before categorizing the current USB connector types, the first case of USB usage was on old iMac models and some speakers which were quite odd back in the day. The operating systems back then needed time to catch up and they did, but amazingly, the old electronics will still connect with the current models as long as they abide by the USB legacy mode. Now, we have the standard connection on every other electronic device you can think of and every new model needs that as a standard connection.
Computers are one of the primary users of USB connectors, and they come with different speeds of data transfer and charging when called for. Now, with every other manufacturer coming with a design coined from the original connector, what do we go for and why? This guide will reflect some of the best USB connector innovations that 2018/2019 has to offer and what you need to know about them in general.
USB Connectors' Comparison Table
Top 7 USB Connectors' Product Reviews
The first USB connector on our list is the Sabrent 4-Port USB Hub that can accommodate up to four devices connected to any compatible laptop or desktop. The size is small for easy portability and having four 2.0 USB connections, you can swap it between devices and plug it in almost all gadgets requiring such a standard connection.
The design we are reviewing is black in color with four switches for each port. That means that you can switch them on and off at will depending on the ones you want to use. It has a 6 inches long cable that you can connect to the primary reader which could be your laptop or desktop computer. The ports offer a high speed of 480Mbps, a full rate of 12Mbps and a low speed of 1.5Mbps.
While it is small and flattened to increase portability, those who like it plugged in but hanging to reach out to other connections can do so without a problem. On the other hand, you need to be aware that prolonged hanging makes your connector loose and that paves the way for damage.
You need to note that this USB connector does not support charging capabilities. However, some customers have attested to charging if you get the model with an option to plug into the power source to allow powering up the phone. The main purpose of this USB connector type is to synchronize what you link with other devices. Whatever you join, the combined voltage should not exceed 5 volts and 500mAh otherwise it will cut out the connections. Using three connection points and leaving one off helps if you have the three ports already in use.
Overall, it is handy to own, and it is compatible with all operating systems not forgetting that it comes with backward compatibility for 1.1 devices and hosts.
What customers say
"It is a small but great USB hub to utilize. I wish they had a 3.0 port for faster connections, but the transfer speed is okay with me. It gets slower with more devices connected but reading them, and transferring files from the computer is never a problem. I love the button actions to turn the individual connectors on or off which is good if you want to reduce the traffic and voltage activity. I use it to connect my laptop to my small piano keyboard to record my practice sessions and record, and there has been no problem so far. The connector on the piano is one of the USB mini connector types, so I use an extension cable with an A-Male connector for the USB hub end. Note that if you need to add one more device such as your phone, you have to utilize the hub by switching off the ports that you don't need at the moment."
Pros
Small and portable USB hub
Can connect multiple devices
Data transfer is possible between the connected devices
Compatible with many hosts and operating systems
Cons
You cannot use all the ports at once
The voltage limit disregards you from connecting power hungry devices such as external hard disks together with other devices
Do you want to extend your USB connections away from your host? The AmazonBasics USB extension cable features a 2.0 USB connector type with A-Male and A-Female connectors on both ends. Since it is three meters long, it can go a long way to connect that flash drive or modem device that you need on a higher level for a better connection. Whatever you need to extend for and connect on the female end, this cable will reach out with no problem whatsoever, those with printers, cameras and other computer peripherals.
On the USB connectors is gold plating to make the ends corrosion resistant and optimize the connections for clarity when being used for communication between devices. The shielding protects against electromagnetic and radio frequency noises so, the presented signal faces minimal interference, and there is more bandwidth for the desired performance. AmazonBasics has the same cable representing the 3.0 USB connector types, and the difference between the two is the speed of transferring files. The 3.0 model has a higher speed than the 2.0 counterpart.
For data transfer or charging capabilities, this cable will serve its purpose with no compatibility problems and the construction guarantees longevity of use. AmazonBasics has produced some quality cable connections, and this one does not disappoint.
What customers say
"From the usual USB connectors to HDMI, AmazonBasics have established their brand which gives nothing short of quality and easy use. I use the cable to extend my flash drive connections from the computer or TV. It works great when I want to use the flash drive or my external hard disk to access the movie storage. The cable has a durable rubber construction, and the gold plating does not wear off after continued use. This cable will help you extend any USB connection extendable, and the price is okay for a pack of two cables."
Pros
Extension cable for a variety of connections
Gold plating protects the connection ends from corrosion
Durable rubber construction
Cons
It may offer a lower connection speed when compared to 3.0 USB connector types
If you need USB connectors to act as charging ports, here is a RAVPower 6-port USB Charger that has six A-type connectors to charge up to five phones or tablets at the same time or a combination of both. All the connected devices are connected to a 60W power source with 12A of current encased in a protective black casing.
In the circuitry is the RAVPower iSmart charging technology that identifies the individual needs of the connected devices. That means every USB connection will detect the amount of current needed to charge the device and deliver the exact amount. With that, you have a safe charger to use for the next few years. The ports have a 1A to 2.4A specification which suits most of the smartphones and tablets produced today.
To prevent the use of USB connection as the power connector, the charger comes with a single wall connecting cable that draws electricity from the sockets. With this charger, you have the potential of minimizing the number of wall chargers that need a wall connection to charge more than one device. The cord is 1.5 meters long so you can go much further from the wall after connecting.
Inside the black body finishing with a green LED light includes protection measures to prevent overcharging, short circuitry and overheating problems. To make it adaptable in many regions or countries, the input allows 110V to 240V mains inputs.
A word of caution is to avoid placing close connections between the ports so that the charger can breathe as it dissipates heat. Also, it is not a good idea to connect anything that dissipates heat while charging since that will also lead to charger overheating. One more thing, which contributes to a flaw on this charger is that you cannot use it to charge devices that require fast 3.0 charging capability. If you have that Samsung Galaxy that has the fast charging capability, then you need its charger to do that instead of connecting it on the RAVPower USB charger.
What customers say
"I finally got a multi-charger that will charge more than four phones. I own two iPads while my wife has an iPhone 6 and a 6 plus. I had to read the many reviews before buying it, and after arriving, it worked as advertised. The pricing is also good since you get cheaper models that will boost the same capability but fail eventually. Even after connecting all the phones, I did not experience any noise issues or overheating problem presented before by some of the buyers, and that makes me appreciate the decision I made."
Pros
Charging multiple phones at once
Dedicated power cable
iSmart charging technology suitable for devices charging needs
Different power input capabilities
18-month warranty
Cons
You cannot use all the ports at once to prevent overheating
Does not support 3.0 fast charging capability
For the new phone releases that require the USB C-type connector, here is a military grade JSAUX USB Type C Cable that is composed of strong fiber that is powerful and flexible at the same time to increase the tensile force by 200%. That means it can sustain the most of bending circumstances that the manufacturer rates as 10000+ bend lifespan. At the connector tips on both ends, they have an aluminum housing that makes it more durable and light.  The top casing is made of braided nylon that makes it tangle free protected inside.
Now, this cable will work fine for most of the smartphones requiring a C-type connection for their port, where it aids in data transfer and charging with speed going up to 480Mbps. The current input allowed is 2.4 amperes and being a 2.0 USB connector type, some of us would argue as not fast enough bearing in mind that 3.0 types already exist.
You need to note that in the list of compatible phones in the description only identifies the phones that can use this cable. Some phones will charge comfortably, but later models such as Google Pixel 2 and Huawei Mate 9 which require fast charging will only charge at a moderate pace. For such phones, it is advisable to use their original chargers since they need more than 4V to power their batteries.
At 6.6ft. this cable is long enough to use it at your comfort. Just plug in the power source and sit on your couch to access the phone or tablet as it charges. If you are in a car, even those in the back sit can access it without switching the port. More to that is the 18-month warranty that you can utilize in case of any mishaps with the cable, but by looking at the construction, we don't think you will be returning to customer care after requiring it.
What customers say
"I was looking for an extra charging cable when I came across this selection. It looked awesome and expensive, but after arriving, I forgot everything to do with the pricing. This cable is long enough to get almost anywhere. I like it while in the car, but my wife also hijacks it to use in the bedroom. Next time I need to get hers to keep this one for me. The nylon covering is great for protection, and the rubber ends give in extra protection between the cable and connector ends. Overall it has a nice look, and I like the idea of replacing my current C cables to this one with a nylon wrap. They are stronger and durable that way."
Pros
Durable construction
Tangle-free covering
Will charge and transfer data from all type C devices
Long enough to charge at your comfort
Cons
It loads all the compatible phones, but it will be slower on those requiring fast charging capability
If you have a laptop with fewer ports, the Unitek 4-Port USB 3.0 Hub Extension Cable is here to take care of that and make sure your devices are communicating seamlessly. This multiport expansion comes with a black albeit plastic casing which works as a protective cover for the USB 3.0 connector types on it. They all have the blue color in them to identify with 3.0 specifications. With this, you can connect the flash drives, external hard drives, printers and any other device requiring such a connection.
The ability to charge phones and tablets is made possible by the A-type connectors or the micro USB connector beside the power cable connection point. Since they are meant for high-speed data transfer and synchronizing, you get speeds going up to 5Gbps for the connected ports. It also comes with reverse compatibility to work with 2.0 USB ports and the 1.1s too. The USB connecting cable extends to 120 centimeters so you can reach for the ports further away from the connection point.
While the manufacturer advises you not to use it solely for charging purposes unless connected to a power source, the additional micro USB connection supports BC 1.2 charging which brings in 5V and a current of 1.5A. That is what makes it possible to connect the power-hungry devices such as a fast charging phone. Another great feature about this hub is that it is compatible with most of the already established operating systems.
One thing you need to note is that this is a 3.0 USB connector type hub. It, therefore, implies that using wireless devices will interfere with the radio frequency that 3.0 connectors project while under use. They both use a frequency of 2.4GHz, so it is advisable to use 2.0 connectors when utilizing the wireless peripherals. It is also not meant to act as a standalone charger do it is desirable to use a power adapter while charging.
After purchasing, you get a superfast USB hub that comes with a 24-month warranty.
What customers say
"After using this hub for a while, I realized how it helped me use multiple devices on my laptop which only has two USB ports. I wanted somewhere to connect my external hard drive and a flash when the need arose, and this one provided what I needed. While using it, it is also possible to charge my phone via the micro USB port beside the extending cable. The plastic build is compact and solid, and the LED light is enough not to blind while in use. I have been testing it in accordance and against the advised rules and I have found no problems whatsoever. The transfer rate of files is the same regardless of the connection point used, and that is recommendable."
Pros
Multiple ports for connection
All ports attain the 3.0 specification
Solid build
Accommodates charging capability
Cons
Cannot be solely used for charging
The frequency used interferes with wireless frequencies which calls for 2.0 USB connector use
At times, we need an extender for our cable connections when connecting various devices. The Cable Matters USB 3.0 Coupler gives you the ability to connect any USB cables on both ends regardless of their speed specification. The coupler has female A-type connectors that accept the male connectors on the wires you desire to use. That gives you the option to extend the length of your cables connected on your computer to other devices.
When purchasing, it comes as a 2-pack which means you get an extra pair for more connections when needed. Measuring at 1 ¾ inch in length, it is a small accessory to carry in your bag or pocket whenever you need to travel or go to testing sites. IT practitioners and other individuals with electronic equipment in their homes and offices find this coupler as a great tool to expand their work.
The construction makes it better for long-term use since the plates are gold coated for corrosive protection. The black body has its sides gripped for secure holding when inserting and removing the cables. At the top, there is label space that you can use to name where the coupler connects to in case you are faced with more than one connection.
Since they are USB 3.0 connector types, you get a superior performance after connecting. The data transfer speeds go as far as 5Gbps, and the couplers go ahead to be compatible with the lesser speed USB connectors that were available since the invention of the USB connector.
Whether you are extending the micro, mini or the full USB connectors, this coupler will not disappoint in your charging and data transfer tasks.
What customers say
"This is a great connector for anyone with multiple devices at different points in a room especially where a printer is involved. I currently use a 16-foot male to male USB cable for my gaming realm, and I like the fact that it gets the cables to my station and let me relax on my couch when the action begins. Whenever I need to charge or connect the phone to the PC, there are no problems since all you need is to plug and relax as the devices communicate or receive their juices. The only thing I would wish for is for the manufacturer to add a protective rubber that goes a little beyond the connection points to protect it from external exposure especially if you have pets and children around."
Pros
Coupler connector works with almost every other USB category
Rubber casing makes it compact, sturdy and durable
Holding grip makes it easy to use
High-speed data transfer
Cons
It may not work for OTG (On-the-Go) connections
Last but not least, here is a pack of USB connectors that go beyond how you connect your devices for communication and charging purposes. The USB connector types are all under 2.0 specification due to the white plate in them which is different from 3.0 USBs which are usually blue in color.
In the package, you get ten connectors with different modes of connection. First, there is a USB male to micro USB connection for the compatible smartphones and tablets. Next, there is a USB female to micro USB connection that you can use as an extender to the cable connecting to the computer or power source. It also works as an OTG adapter if you need to connect peripherals to your tablet or smartphone. Another connector that can be useful to Bluetooth speakers among other devices requiring such a connector is a USB male to mini USB male.
Other connectors include USB male to USB female, USB female to mini USB male, USB male to mini USB female that you can use to couple with the respective cable that requires such connectors. Earlier devices mostly used the mini USB connector types so, if you still have something to utilize such a connection, this package will suit you better.
More to the connections are the female to female connectors, USB female to mini USB female, and the male to the male A-type connector. These connectors will work fine for charging or data transfer apart from connecting other cables to lengthen the connection points. One thing you need to note is that for most of these connectors you need proper installation when using due to their size. When using other devices, it will be more comfortable when you consider a cable in the connection rather than using them as they are when they permit you to do so.
What customers say
"There is good value for money here. Using the connectors requires a little thinking to avoid embarrassment after the connection. Some of them are tight to connection points while others are loose so, the tolerance varies from one connector to the other. I have a desktop system that connects with the printer and external hard drives. These connector pack came in handy whenever I needed to improvise. Some later smartphones will not work with these connector types due to fitting issues despite having the same specification. I have a Samsung S6, and the micro USB connector is smaller to fit up to the phone's connector end. Those who say that they are not suitable for data transfer, I'm afraid I have to disagree since I just used the male to micro USB connector to download a picture from the computer. What might make them not to work on other devices is either fitting issues or the 2.0 specification that does not work well with the devices requiring a faster intake."
Pros
10 USB connectors in one pack
Variety of connections for multiple devices
Charging and data transfer capability
Suitable for DIY connections
Cons
May not be suitable where 3.0 USB connection is needed
Connection issues with different gadgets
USB Connector Types Buying Guide
Having reviewed the different USB connections that you can look out for to expand your connection capability, it is clear that the information focuses on some advanced options to look out for, but the list cannot be exhausted. Technology and designers are working at a faster rate that recognizes the combination of USB connectors with other forms of connection such as the Molex connectors, HDMI, VGA and DVI/D cables, Ethernet and the list is endless.
We also need to note that USB connectors have evolved to involve more models that use the same connection mechanism. We are going to look at what they do, the different types available, the standards used and some of the USB cables to check out when you need to expand.
USB Connectors Functionality
They came to replace the many connectors that we available when seeking communication with the computers. There was all manner of ports from PS2 for the keyboard to something to work with joysticks and other gadgets, and it became uncontrollable. The USB (Universal Serial Bus) connector was developed to solve how devices communicate with each other by using a serial standard that uses a twisted form of the data cable to identify the other body. With the addition of grounding connections, you get a conductor with four connection points that are simple to make and easy to use even in tight connections.
That way, it establishes the current methodology to be used by devices when talking to each other. Apart from the recent OTG (On-the-Go) cables that use limited host capabilities, you need a host to initiate the conversation after the direct connection. The USB itself is only a bridge to allow transfer of data and charge, nothing more. That is why not having a host does not make sense and in fact, connecting them without a host can be problematic to involve short-circuiting and fire disasters.
USB Cable Connector Types
Despite it being a universal connector, it has many other different types. All of them have different functionalities with the aim of supporting the compatibility of the numerous devices that we have today.
The common ones you'll find include:
Type A: This is the standard USB connector that we see on our computers, and the cable ends connecting to them. It is used to connect peripheral devices, and you will also get them on speakers, TVs and gaming consoles among other electronic devices.
Type B: This is more of a square connector than the rectangular port type above. If you have a printer and other powered devices that connect to the computer, they have a square kind of connection that is responsible for data movement. They are however not common today since such devices have taken smaller connections.
Mini USB: This is a form of connection that was made smaller for mobile devices before the emergence of the micro USB. Mini USB connector types are not common today, but the cameras and play stations still have them as their connector forms.
Micro USB: This is the current form of connection found in almost every other smartphone or tablet that you will come across. While micro USB connector types are still popular, smartphones have moved to the new type C USB connector.
Type C: This is the new norm in every other high-end device which includes the MacBook, Nintendo Controller and Google Pixel phones. It is a reversible type that has a higher data transfer and charging rate than the micro and mini models. It can also juggle between functionalities. We will discuss it in detail below.
Lightning connector: This is the Apple standard on the currently produced phones and pads among other gadgets from the company. It has the same size as the C connector, but it only applies to the new devices.
In most USB cables, you get an A-Male connector on one end and an A-Female or the rest on the other end. This avoids damage cases if the connector was A to A male only. The minis and micros are models of the B connector, but they don't take the name since they obtain a slimmer design. Therefore when it comes to cables, as opposed to the hubs reviewed, you get mini USB, micro USB and USB-C connector types. Even for the hubs, you end up with a smaller connector that goes to the communicating devices apart from the flash drives.
USB Transfer Rates Explained
The USB connector types go further to be categorized based on the speed they use to transfer charge and data. There are three central rates used which include:
USB 1.x: It was the first USB to be created after the invention. While it forms the earliest standards of USB connection, you will rarely find them on any current device.
USB 2.0: You get them on computers and other cables that have mini USB or micro USB connections on the other end among others. They constitute the lowest speed that devices use to transfer files and you get them on cheap flash drives, keyboards and mice connections not to mention the OTG cables that just came the other day.
USB 3.x: This is the current speed standard that is useful on external hard drives and other heavy devices. It is much faster than the 2.0 model, and it and you can identify it by the blue coloring in the connector. They may also come with an SS symbol that implies a SuperSpeed connection. Nowadays, computers are manufactured with such a port included for devices and phones requiring a faster connection.
The usage mechanism allows for 2.0 and 3.0 USB connections, but that does not promote the rate of transfer speed.
Check the USB connector types chart to get familiar with what is available.
What is a USB-C Cable?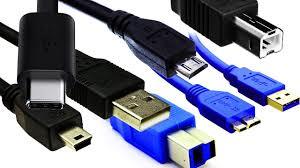 This is an emerging USB connector type that continues to extend the capability of USB cables. First, it is much smaller than the micro USB and reversible not forgetting it's also fast. This cable can receive and transfer which means there is more power and use in it than the former versions. The sad thing is that it is still new and computers among other devices have not yet picked it up. With time, they will. As of 2018, only the MacBook comes with the USB-C port, and the newer models are coming packed with several C connectors.
They will power your device, transfer data and continue to extend the display to your nearby compatible monitor or screen. Apart from the production of C to C connectors, there are USB-C to USB-A connectors that provide compatibility with the older devices. Those who have the Google phones, Nintendo Switch or the current Apple series, then you have a USB-C connection with you!
What is an OTG Connector or Cable?
This is a recent invention from the Android side. OTG is an acronym for 'On-the-Go' cable that allows the portable devices (phones and tablets) to act as host to external devices.
If you have a flash drive or an external hard disk and you want to access the files on the phone or tablet, the most common method would be to transfer the data to your laptop then move them to the phone. The OTG cable allows you to transfer the files directly from the drive to your phone which acts as the host. That is one of the many ways that this connector can be useful.
Most phones are still not OTG compatible, so you have to check your model, if not yet by downloading a USB OTG checker.
USB Cables to Check Out
USB-A to B: Commonly used in printers and other heavy peripherals.
USB A to A: They are used for extension purposes, but you have to be careful when using them. They are not common, and you need female connections which act as couplers to prevent short-circuiting and other fatal damages.
USB-A to Mini-B: They once filled the offices and homes but not anymore. The Blackberry had it, and some other gadgets such as the FTDI Basic Breakout still utilize them. What has made them available to date is because some Bluetooth portable speakers still use them among other devices and they fit in tight spaces, making them a favorite in various brands.
USB-A to Micro USB: This is what most of us are currently using on our phones and tablets. The newer modification involves USB-A to USB-C connectors for the current and future devices compatibility. With the phasing out of mini USB connector types, the micro now reigns in every other smartphone you will come across.
USB extension cable: This one is common when connecting the computer to other peripheral devices that need to be further away. Printers, modems requiring a better receiving position, cameras and Wi-Fi adapters among others will use such a cable.
USB Connector Final Guide
USB connector types are what the world use today to connect two communicating devices. Though other forms of connection facilitate the same, there is no single phone, computer or speaker among other electronic devices that will ignore this connector. They have now found their way to routers and other wireless devices, and the continued modification means that we expect more from USB connections at large.